Afternoon Canal Tour Rice Barge
Afternoon canal tour rice barge river cruise klong tour Bangkok Thailand. This tour is one of Southeast Asia's most unique tours. Starting with an exciting trip by express boat with explore Thonburi canals in afternoon. Starting with an exciting trip by "local" Express boat, often negotiating klongs or canals, barely ten feet across, you'll be transferred to our comfortably converted rice barges for a leisurely trip back towards the city. Enjoy to welcome drink and typical Thai fruits and snacks onboard traditional rice barge. Then rice barge will be cruising along the Chaophraya river with passing through as; Grand Palace, Temple of dawn or Wat Arun, Beautiful Buddhist Temple, Santa Cruz Church, River 5-star hotel, Icon Siam and then back to the pier with transfer back to your hotel.
Afternoon Canal Tour Rice Barge Klong Tour Half day Trip
Spend your afternoon exploring to the Chao Phraya River and the old Bangkok canals with the combination of the Chaophraya bus boat trip and the traditional Thai traditional Rice Barge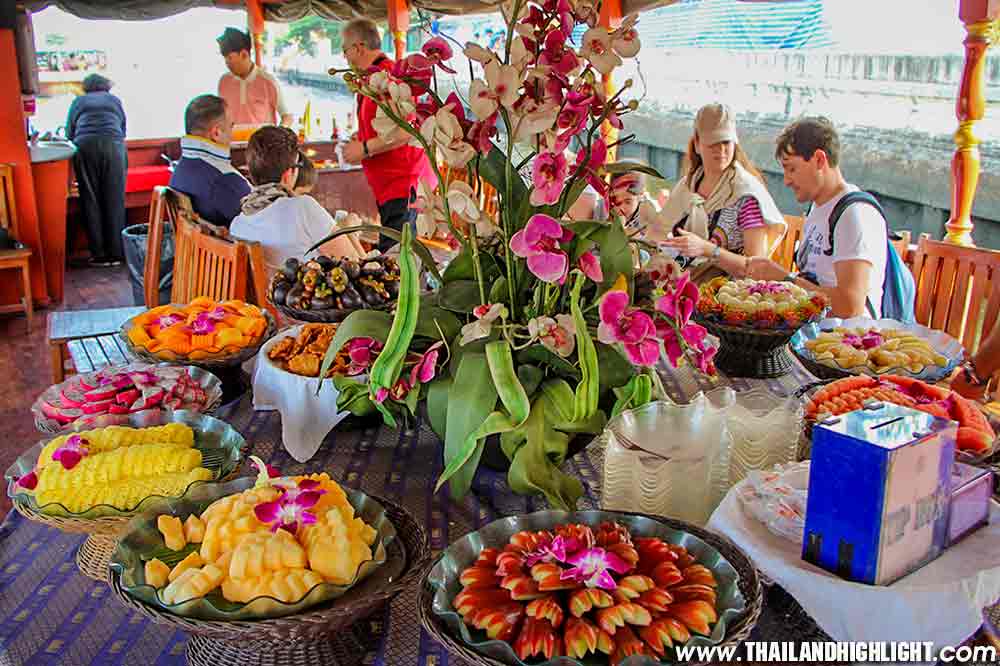 Afternoon Canal Tour Rice Barge Klong Tour Half day Trip
Tour Code: BKKH9
Destination: Bangkok
Start City: Bangkok
End City: Bangkok
Tour Type: Joint Tour
Duration: Half Day (Afternoon)
Tour Departure: Daily
Afternoon Canal Tour Rice Barge 's Attractions
Explore the charisma of Bangkok noi canal
A fun express boat & rice barge ride during the tour
Thai life typical in Bangkok noi canal
Fish feeding in canals
Bangkok Noi Canal in Thonburi Bangkok "Venice of East," Bangkok is still an enchanting city, with the local people's way of life closely aligned with the life-giving waterways. The charm of living along the banks of serene klong (canal) is much the same as in the past. Historical records point to Bangkok Noi Canal, in Bangkok Noi District being part of the majestic Chao Phraya River. This canal flows in a horseshoe shape through the old Bangkok Noi community in the Thonburi area. The community was established in the Ayutthaya Period and King Chai Racha Dhiraj who ruled between 1534 and 1546, commanded the excavation of a shortcut waterway from Bangkok Noi Canal to Bangkok Yai Canal to facilitate transport and communications.
Along both banks of the Bangkok Noi Canal, visitors can see to National Museum of Royal Barges on the right-hand side. A place to stop and look at the barges used in the Royal Barge Procession – the most spectacular of waterfront events.
Including The place is famous for
Buddhist temples
Thai life typical along the river
Royal Barge Museum
Thai old house along the canals
Floating market Taling Chan
Thonburi Canals
Afternoon Canal Tour Rice Barge Itinerary
Tour Time : 14.00 Pm. – 17.00 Pm.
13.30 Pm. Meet our guide with driver at your hotel lobby in hotel central area of Bangkok. Then transferred to the river boat pier
14.30 Pm. Depart from the pier by motor express boat for a fascinating trip on the Chao phraya river. The express boat passing various canals and temples. this trip is Experience good feeling of life on the waterway and see Thai people at work and at home by the Bangkok noi canal. and Then move from canal, Onto a converted rice barge and cruise along the Chao Phraya River. the rice barge cruise will be passing Temple of Down, Grand Palace, Old Temples, River 5 Star Hotel and Icon Siam.
17.00 Pm. Arrive River city and then Transfer you back to hotel in Bangkok.
Dress Code For Morning Canal Tour  Bangkok
Price/Person
Adult : 1100 ฿
Child :   950 ฿
* Child rate 3-9 year only (Private, Minimum 2 pax)
Tour Price included;
Hotel transfer round trip
English tour guide
Admission fee
Tour excludes
How to use this tour?
After confirmed we will get TOUR VOUCHER to you by mail for guarantee booking
Please present either a printed or show on your mobile to the tour guide
TOUR VOUCHER is valid only on the tour date and time specified
Please be at your hotel lobby 10 minutes prior to your scheduled pick up time
In case traffic jam or transfer delay, please ring to us (hot line for call on tour voucher)