Damnoen Saduak Floating Market and Grand Palace Tour
Damnoen Saduak Floating Market and Grand Palace Tour. This is combined trip of  most interesting full day tour, takes you to the rural floating market of Damnoen Saduak situated 110 kms. west of Bangkok. Your journey commences with a leisurely drive through rice paddles and salt fields. Arriving at the jetty, you board long tailed boats and cruise through the many small canals that takes you to the market at Damnern Saduak. Then return back to Bangkok for visit Grand Palace the Emerald Buddha temple.  The Royal Grand Palace Complex, which includes the Temple of the Emerald Buddha (Wat Phra Keow) is unquestionably one of the wonders of the world today.Within its enormous grounds is the most exotic Buddhist temple and at the heart of the temple itself is a fabulous Buddha image, carved from one-piece emerald. Which is the holiest and most revered of religious objects in Thailand today.
Damnoen Saduak Floating Market and Grand Palace Tour
Combined full day tour , visit most interesting of Damnoen saduak floating  market and Grand palace tour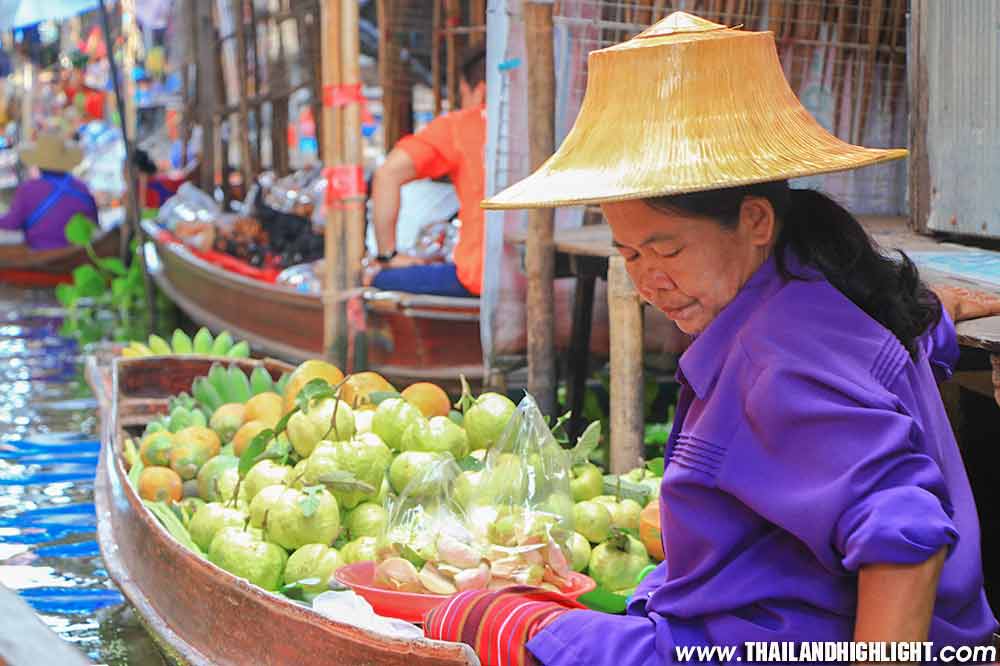 Damnoen Saduak Floating Market and Grand Palace Tour
Tour Code: BKKF3
Destination: Ratchaburi province and Bangkok
Start City: Bangkok
End City: Bangkok
Tour Type: Joint Tour
Duration: Full Day
Damnoen Saduak and Grand Palace Tour 's Attractions
See the famous Damnoen Saduak floating market
Ride on long-tailed boat
See many traditional Thai houses & life style
Sugar Home Industry
Handy craft factory
See views of rice paddles and salt fields
Royal Grand Palace
The Emerald Buddha
Damnoen Saduak Floating Market in Ratchaburi Province
The Damnoen Saduak Floating Market is located at Damnoen Saduak District, Ratchaburi Province, about 105 kms from Bangkok. According to history around 1866 King Rama IV ordered that a 32 kms long canal be dug at Damnoen Saduak. This canal would connect the Mae Klong River with the Tacheen River. The excellent quality soil beside the canal is very fertile and suitable for growing many kinds of fruits and vegetables. The area is famous for Malacca grape, Chinese grapefruit, mangoes, bananas, and coconut. The Damnoen Saduak Floating Market is a very attractive place for tourists to see the old style and traditional way of selling and buying fruits, vegetables, etc., from small boats. Tourists will also see traditional Thai houses, the way they live and travel by boats, and please try riding on a small boat to experience the floating market.
Malacca grape
Chinese grapefruit
Mangoes
Bananas
Coconut
Grand Palace Bangkok " Grand Palace and The Emerald Buddha Temple " has construction of the Royal Palace began in 1782 and was completed in time for the coronation of Rama I.The plan of this new Royal Palace follows that of the Ayutthaya period. Only the central building seen today was missing until constructed as the Chakri Maha Prasat during the reign of King Rama V. A trip to Bangkok would not be complete without visiting the Royal Grand Palace.
The Phra Maha Monthain
The Phra Maha Prasat
The Borophiman Mansion and Siwalai Garden
Damnoen Saduak floating Market & Grand Palace Tour Itinerary
Tour Time : 06.30 Am. – 17.00 Pm.
06.30 Am. Meet our guide with driver at your hotel lobby in hotel central area of Bangkok
07.00 Am. Leave Bangkok for Ratchaburi province
08.30 Am. Arrive the boat pier, then enjoy the scenery of rural life by the long tails speed boat to Floating market and visit brown Sugar home Industry. and then process you to Damnoen saduak floating market.
09.00 Am. Arrive the Floating Market, almost untouched by the modern world, you will enjoy watching the farmer s' selling food, fruits, flowers and many kinds of local products in their boats. And then relax for free at leisure at market area. This time you can joint on private paddle boat (optional tour)
11-45 Am. Depart for Bangkok and continues to Grand Palace Bangkok.
13.30 Pm. Group will be transferred to Wat Phra Kaew. the chapel of the Emerald Buddha, which houses the world's most precious image of the lord Buddha, the 75 cm. statue of jade sits atop an 11 m golden pedestal surrounded by lavish mural and richly decorated pavilions. Then group will be moved to visit the grand palace which encompasses several major buildings. The most prominent buildings include the throne hall. The reception hall and the coronation hall
17.00 Pm. Return back to the hotel in Bangkok.
Dress Code For Grand Palace Avoid Wearing
Shorts, mini-skirts, short skirts, tight fitting trousers, tights, leggings.
Quarter length trousers.
Mid-riff showing or backless clothing.
No clothing with holes (for instance ripped jeans)
Low-cut clothing.
Bare chest in men.
Sleeveless shirts or vests. Only shirts or tops to cover your shoulders.
Sweat shirts, sweat pants, windcheaters, pyjamas and fisherman trousers.
Sandals and flip-flops without socks.
See-through shirts and blouses.
All shirtsleeves that are rolled up.
*Tourists who dressed as mentioned above you can borrow free clothes from the royal staff at the Grand Palace's changing room
Price/Person
Adult : 2400 ฿
Child : 1900 ฿
* Child rate 3-9 year only
Tour Price included;
Hotel transfer round trip
English tour guide
Admission fee
Tour excludes
Personal expense
Meals
Tour optional : Private paddle boat in canal
How to use this tour?
After confirmed we will get TOUR VOUCHER to you by mail for guarantee booking
Please present either a printed or show on your mobile to the tour guide
TOUR VOUCHER is valid only on the tour date and time specified
Please be at your hotel lobby 10 minutes prior to your scheduled pick up time
In case traffic jam or transfer delay, please ring to us (hot line for call on tour voucher)