Ancient City Tour at Muang Boran Samutprakan
Ancient City Tour at Muang Boran Bangkok Half day tours Samutprakarn. This tour will take you to the ancient city is a Mini-Thailand. Ancient city or Muang boran is big open-air museum situated 33 kms east of Bangkok. All major monuments ranging from one third of original to actual size and even 50 meters high mini-mountain representing Khao Prasat Phra Viharn in the east of Thailand have been reconstructed, and millions have been invested to rebuild the Ancient Reception Hall of Ayuthaya old city of Thailand.
Ancient City Tour at Muang Boran Samutprakan
Visit to the huge open air museum shaped in the form of Thailand, see many important buildings such as; temples, palaces and the ruins of ancient cities from the history of Thailand from early history to present day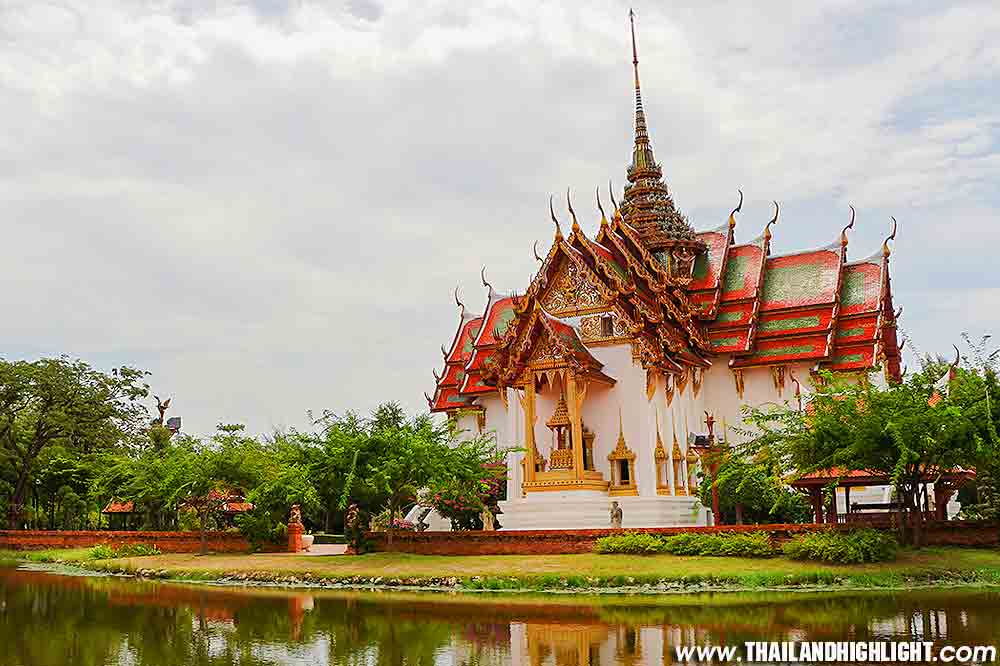 Ancient City Tour at Muang Boran Samutprakan
Tour Code: BKKH7
Destination: Samut Prakarn Province
Start City: Bangkok
End City: Bangkok
Tour Type: Joint Tour
Duration: Half Day (Morning)
Tour Departure: Only Monday, Wednesday and Friday
Ancient City Tour at Muang Boran Samutprakan 's Attractions
Dusit Maha Prasat Palace is buildings from the Rattanakosin era
Wihan of Wat Phra Si Sanphet is buildings from Ayutthaya era
Prang Sam Yot is buildings from Lobburi era
Wat Mahathat is buildings from the Sukhothai era
Ruins of the Khmer empire is buildings from the Phimai historical park in Nakhon Ratchasima Province
Phanom Rung is buildings from the historical park in Buriram Province
Many other structures from different era and many buildings spread out over a huge area of some 240 acres.
Ancient City or Muang Boran , see all of Thailand at the Ancient city. The open-air museum occupies a 320-acre site shaped to the outline of Thailand and comprises an excellent collection of full scale to scale of one-third to three fourths of the original's replicas of the country's major monuments and temples. It offers a realistic journey throughout the kingdom in only a few hours. The Ancient City is the door opening to the heritage of Thai wisdom. With a wide range of architectural symbols combined with fine arts and craftsmanship, structural layout and natural environment that integrate harmoniously.The place is famous for touch and leaning of Thai life in the past as about;
History
Cultures
Religions
Arts
Customs of Thai people
Ancient City Tour Itinerary
Tour Time : 11.30 Am. – 17.30 Pm.
11.30 Am. Meet our guide with driver at your hotel lobby in hotel central area of Bangkok, leave Bangkok for Samutprakarn province
12.30 Pm. Arrive the crocodile farm the world largest crocodile farm over 60,000 crocodiles of different kinds in various pits
13.00 Pm. Arrive the Ancient City or Muang Boran "Home of Thailand 's culture". Where you will experience a journey in to Thailand 's post in only a few hours, saving you many weeks of travel. Muang Boran houses a number of art museum, priceless antiques, There I also and outdoor museum of original architectural structure and collection of scaled down replica of historical landmarks.
15.45 Pm. Leave ancient city for Bangkok.
Dress Code For Ancient City Muang Boran Samutprakan
Price/Person
Adult : 1950 ฿
Child : 1750 ฿
* Child rate 3-9 year only  (Tall 90-130 centimes ), Minimum 2 pax
Tour Price included;
Hotel transfer round trip
English tour guide
Admission fee
Tour excludes
How to use this tour?
After confirmed we will get TOUR VOUCHER to you by mail for guarantee booking
Please present either a printed or show on your mobile to the tour guide
TOUR VOUCHER is valid only on the tour date and time specified
Please be at your hotel lobby 10 minutes prior to your scheduled pick up time
In case traffic jam or transfer delay, please ring to us (hot line for call on tour voucher)