Floating Market Tour @ Damnoen Saduak
Damnoen saduak floating market Bangkok is popular destination for tourist . Floating market at damnoen saduak a glimpse of everyday life in Thailand can be seen at the Damnoen saduak floating market. Your journey commences with a leisurely drive through rice paddles and salt fields. Arriving at the jetty, you board long tailed boats and cruise through the many small canals that takes you to the market at Damnern Saduak. Here, you will be fascinated by boats of various shapes and sizes used by local merchants to ferry their goods. An exhilarating narrow long-tailed speed boat ride through the marshes and still houses prepares you for this unique market. Thai style canoes laden with colorful fruits, vegetables, sweets and meats gently ply their way through the canal of Damnoen Saduak
Damnoen Saduak Floating Market Bangkok
Floating Market Tour @ Damnoen Saduak , visit to Damnoen Saduak floating Market at Ratchaburi Province, enjoy to long tail boats ride and cruise through the many small canals that takes you to the market at Damnern Saduak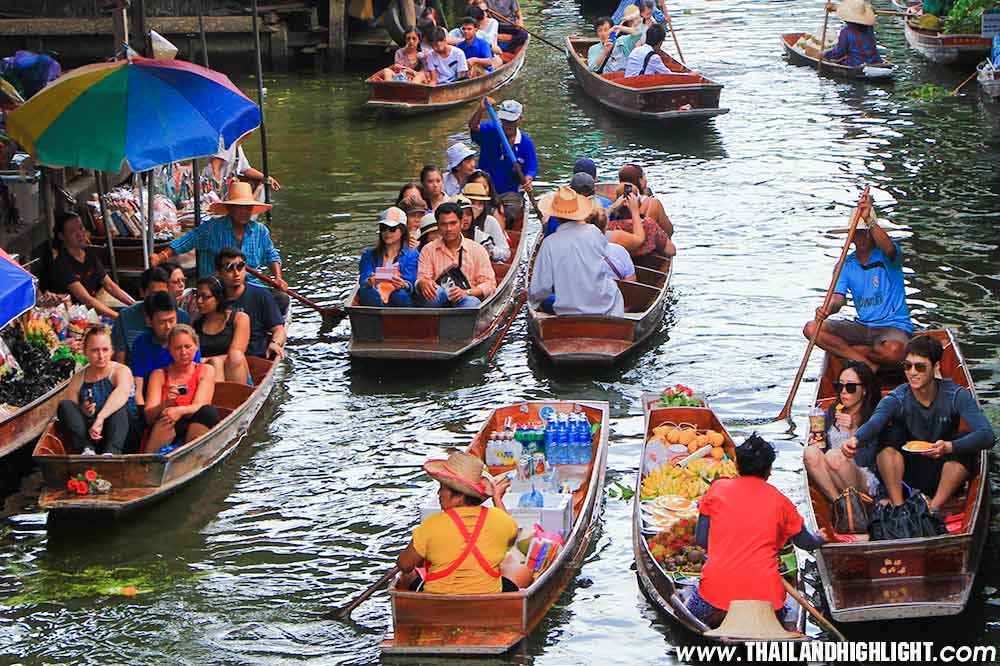 Damnoen Saduak Floating Market Tour
Tour Code: BKKH3
Destination: Ratchaburi province Thailand
Start City: Bangkok
End City: Bangkok
Tour Type: Joint Tour
Duration: Half Day (Morning)
Tour Time : 07.00 Am. – 13.00 Pm.
Damnoen Saduak floating Market Tour 's Attractions
See the famous Damnoen Saduak floating market
Ride on long-tailed boat
See many traditional Thai houses & life style
Sugar Home Industry
Handy craft factory
See views of rice paddles and salt fields
Explore the most famous floating market nearby Bangkok. The Damnoen Saduak Floating Market is located at Damnoen Saduak District, Ratchaburi Province, about 105 kms. from Bangkok. According to history around 1866 King Rama IV ordered that a 32 kms long canal be dug at Damnoen Saduak. This canal would connect the Mae Klong River with the Tacheen River. The excellent quality soil beside the canal is very fertile and suitable for growing many kinds of fruits and vegetables. The area is famous for
Malacca grape
Chinese grapefruit
Mangoes
Bananas
Coconut
Damnoen saduak floating market Bangkok is Damnoen Saduak Floating Market Bangkok is one of the floating markets in Bangkok. Damnoen Saduak Floating Market is a cheap or cheap place to visit. It is big and perfect in its existence. It is about 80 kilometers from the capital city in Ratchaburi province. Due to its popularity, the Damnoen Saduak Floating Market near Bangkok can be crowded with tourists. However, it is one of the friendliest places to visit in Bangkok. Aphawa Floating Market Bangkok is about 50 kilometers from the city. It attracts many Thai visitors who come here to eat and eat seafood in shops. While you're drinking and shopping, hop aboard a longboat and see the river.
Damnoen Saduak floating Market Tour Itinerary
07.00 Am. Meet our guide with driver at your hotel lobby in hotel central area of Bangkok
08.00 Am. Leave Bangkok for Ratchaburi province
09.00 Am. Departure from Bangkok to Damnern Saduak Floating Market.
09.30 Am. Arrive the Floating Market, almost untouched by the modern world, you will enjoy watching the farmer s' selling food, fruits, flowers and many kinds of local products in their boats. And then relax for free at leisure at market area. This time you can joint on private paddle boat
11.30 Am. Back to Bangkok
13.30 Pm. Arrive Bangkok and sent you back to your hotel in Bangkok
Dress Code For Damnoen Saduak floating Market Tour
Floating Market Bangkok Tour Price
Price/Person Adult : 1000 ฿ Child : 650 ฿
* Child rate 3-9 year only
Tour Price included;
Hotel transfer round trip
English tour guide
Admission fee
Tour excludes
Personal expense
Meals
Tour optional : Private paddle boat in canal
How to use this tour?
After confirmed we will get TOUR VOUCHER to you by mail for guarantee booking
Please present either a printed or show on your mobile to the tour guide
TOUR VOUCHER is valid only on the tour date and time specified
Please be at your hotel lobby 10 minutes prior to your scheduled pick up time
In case traffic jam or transfer delay, please ring to us (hot line for call on tour voucher)